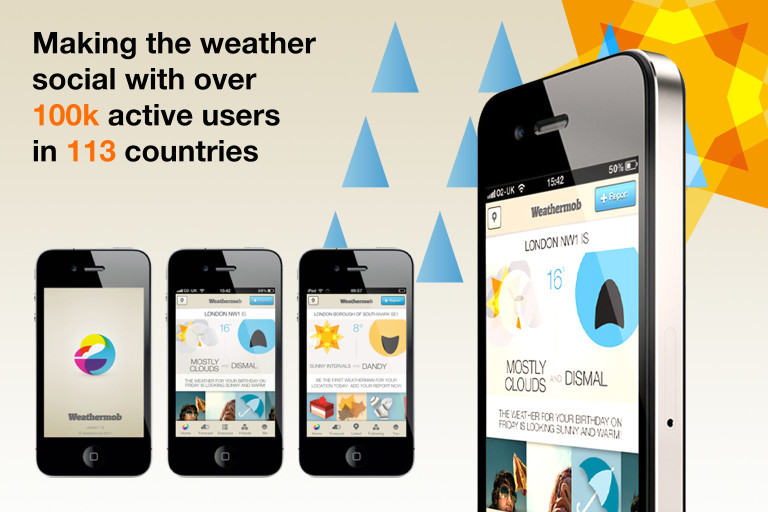 A user generated approach to the weather.
Challenge42
Weathermob is a delightful but singularly handy- and usable - social weather app. It works by putting together real-time user reports, as well as traditional weather forecasts, hour-by-hour, to generate highly accurate and personalised images, anywhere in the world. Fantastic.
The canny inventors of Weathermob knew they had a brilliant concept, but they needed a helping hand from Brand42 to get the WeatherMob branding and app design looking as sunny as the vision. They wanted it to be fully interactive, easy to use and compelling to users around the globe. Game on…


The Big Idea
Brand42 set out to work on this project with Weathermob's crowd-sourced approach to the weather in the forefront of our minds. We went for a clean-cut, colourful, social network style branding that would be easily identifiable and help jazz up the weather.
After we'd mastered this clear, friendly design we added a lot of slick intuitive functionalities. Since the existing app invited users to share their feelings about the weather, it just seemed logical to us that the new design should express their emotions visually via a series of personalised icons. These could then be complimented with pictures, video and text. After all, who doesn't want to be a Weather presenter?
Sharing is caring, so we put that functionality at the forefront of our design. The finished app makes it super simple for users to post their Weathermob reports on Facebook and Twitter. Score.



ROI
Since the app was released in 2012, it has been downloaded more than 400,000 times, has 100,000 monthly active users who are active in over 135 countries.
The weather has been made well and truly social.

What the critics say...
"It's a cool little app, and should go down a storm – 4.5/5 Stars" - Cult of Mac
"A delight to use" - AppSavvy
"Beautiful, social weather forecasting" - Macintude