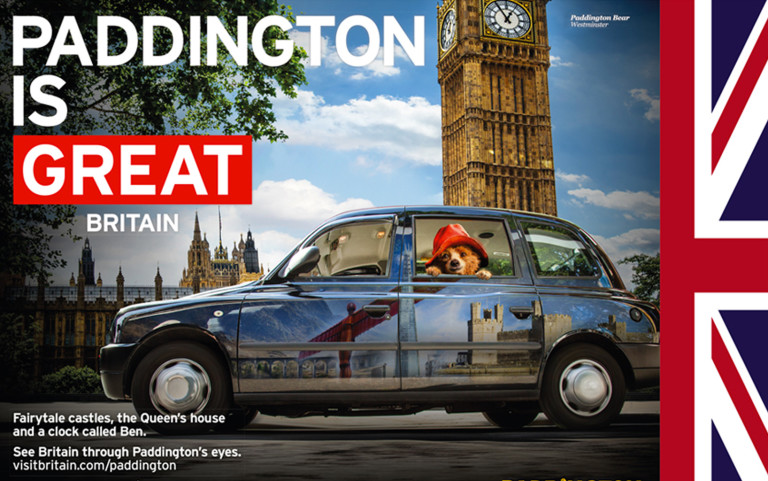 Building a campaign around Britain's favourite bear.
Challenge42
Paddington is by far Britain's most iconic talking bear. With the international release of the Paddington film in the pipeline, VisitBritain wanted us to show off Great Britain and its favourite bear from a uniquely furry perspective.

We were asked to create a tourism campaign with a pinch of humour to get both families and singletons keen to set off and explore the whole of Britain.
This project was a killer opportunity for us to build on the work we had already done for VisitBritain by building the LoveWall as a campaign platform. We absolutely love a chance to do that.


The Big Idea…
To crack this campaign we really had to get into character. We wanted to immerse prospective visitors into the universe of the film so that they could truly live out Paddington's adventure. We were keen to capture the wide-eyed amazement of our favourite little bear wandering through a maze of unique British destinations.


With this in mind, we decided to display key landscapes and locations through the giddy gaze of a small child. With the aid of our crafty illustrator, we set about creating towering and distorted sketches of Great Britain through "A bear's eye view". We wanted to put the childish thrill back into Britain and excite the kid in all of us. The concept stuck and went digital with #PaddingtonsBritain trending all over the place. It turns out that our promise to give out a free bear got the people going. Pretty soon, Twitter was bear-heavy and LoveWall received over 220,000 competition sign ups.

We wanted this campaign to show off LoveWall as a campaign platform. To get this across, we decided to integrate an Instagram module so that all the Paddington photos could inspire users. We also crafted some Paddington themed itineraries to encourage them to go on their own adventure across Britain. We then added in a gateway to the Paddington shop so they could load up on memorabilia and travel necessities. With VisitBritain's most successful campaign in the bag, we went away pretty chuffed.