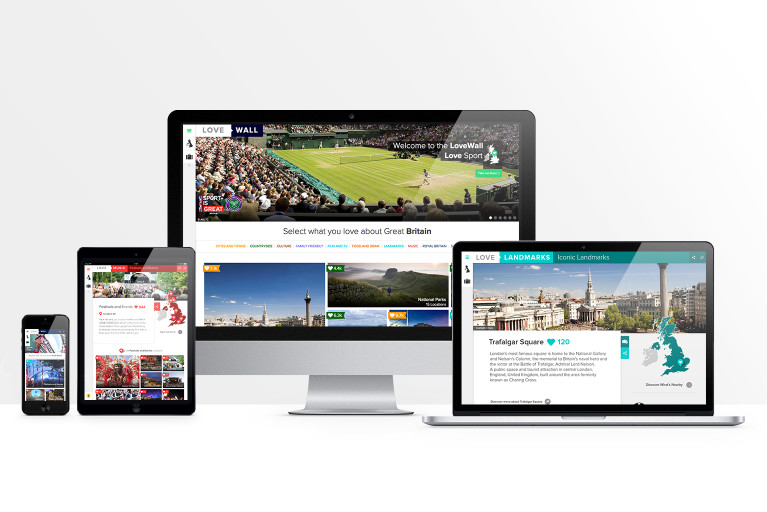 How do you reflect the real love the world has for Great Britain?
Awards

Challenge42
Brand42 got in touch with VisitBritain. We wanted to them maintain the hype they were gaining from their increasing fan-base and the events of 2012 by creating a new, interactive platform to help visitors plan their trips to Great Britain. We were asked to make a website packed with relevant tips and tricks which gave people a chance to share the British love. Challenge accepted.


The Big Idea
After digging deep, the concept of 'The LoveWall' hit Brand42 square between the eyes. The idea was to give trendy city breakers and adventurous trekkers alike, a digital platform to declare their love for a vast selection of British destinations, landmarks and events - all in beautiful HD quality.
In essence, we wanted to design a supreme visual smorgasbord of Britain with an ultra contemporary layout.
Inspired by sheer excitement, the team designed and developed the site to interactively capture the love for Britain and reflect it back to users. Here is the best part: the Lovewall was made available in 12 tongues including those fickle right to left languages. Yes, that's right, our target marketing of locations and itineraries can be enjoyed in 240 countries across the globe.

Let's Get Technical
We got involved with a staggered development approach on this project. In fact, the new LoveWall boosts a full re-design, including an interactive map layer and fully responsive layouts that deliver an awesome experience across platforms. The launch also introduces a RESTful API, developed using innovative technologies such as node.js and mogodb. Through continued development and releases, the site also now intergrates the expedia API, making it even easier for our lovely users to get planning. That's just the nitty gritty of it.

LoveWall as a campaign platform
Built also as a campaign platform LoveWall can be easily re-skinned & has hosted the successful Skyfall and Barclays Premiership campaigns, driving over 311k registrations, 112k email signups and helping to increase Facebook likes to over 2.9M. The API is open to third-parties including Expedia and VisitBritain Trade for integrating geotagged data to their mobile and web applications.

A new Campaign layer of the LoveWall gives the tools and functionality for the VisitBritain team to spin up campaigns within short time scales and the ability to react to trending topics in a resourceful and efficient manner.

Campaigns can be region and language targeted, and allow the VisitBritain team to select from a number of modules which include several competition types, social media plugins and brand/partnership options in addition to the standard LoveWall modules and the VisitBritain Shop API. These pages can be fully controlled in both content and layout with recent successful campaigns including Downton Abbey, Countryside, Dunes to Peaks and Paddington. This last campaign grossed 220,000 competition entries alone.
What this means in numbers

Awards Update
2015 - Gold Communicator Award
2015 - Creative Pool Annual Shortlist
2015 - Webby Awards Official Nominee
2014 - W3 Silver Award Winner
2014 - Bronze Lovie Award
What the client says
"Brand42 understood our global audience, our unique challenges and importantly our vision. It was essential they also reflected our passion for Britain as well as focus on continuing to develop a world leading digital presence for VisitBritain.
Through the LoveWall, Brand42 have demonstrated a perfect mix of creativity and technology to deliver both an inspirational and informative experience."
Philip Taylor,
Head of Marketing, VisitBritain