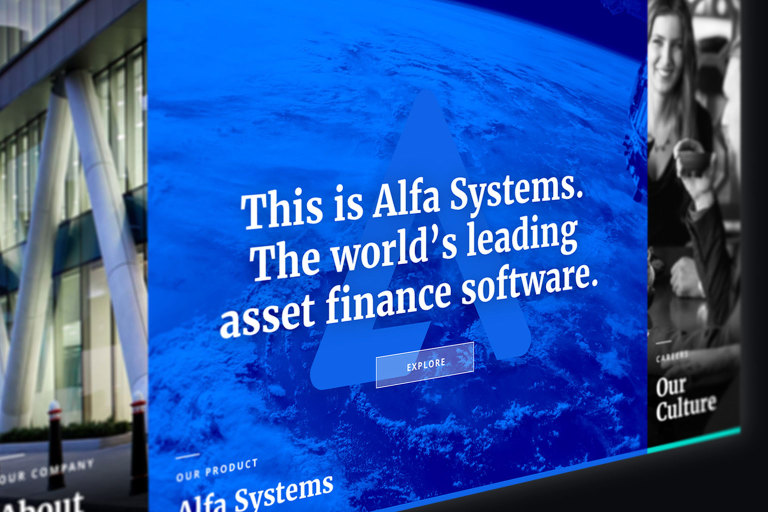 Bringing Clarity to Asset Finance Software
Alfa approached Brand42 under the name of CHP Consulting. Their brief was to design and build a new, bold website that would suit their position as market leader in the asset finance software industry. At the heart of the project was a shift of focus towards a product led strategy, rather than a consultancy offering, hence the rebrand as Alfa.

It was key that Alfa was recognised as a successful and established company, with a market-leading product and a strong careers hub for talented graduates worldwide. Our concept was to build a website that uses a philosophy of Alfa's three key areas of 'company', 'product', and 'careers', allowing each target user to be channeled into a particular area that is important to them.

We built upon their existing brand colour, creating a spectrum of three colours, which cleverly expand and contract, to clearly signpost the areas of the site. The design also builds upon current trends in the industry with the use of serif typefaces and strong, bold gradients that are built from the brand's three core colours.


What the client says...
"The new website has received a marked positive reception in the industry. Website traffic has increased in terms of both numbers and duration. Prospects and potential recruits are engaging more with the company, not only through the site but also on social media. Brand42 have received explicit praise from Alfa's CEO, Andrew Denton, for meeting and exceeding the brief in a compressed timescale. The bold design will influence all aspects of the brand."
Brennan Till - Communications Manager, Alfa