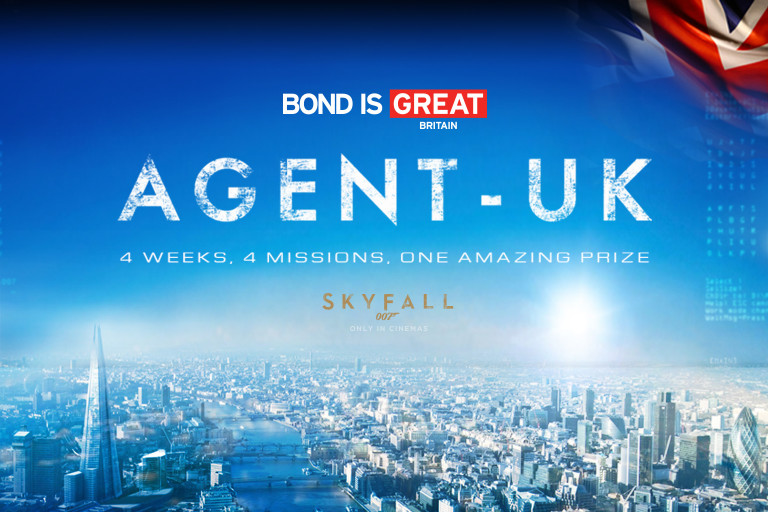 Activating a British Spy Mission for the release of Skyfall
Awards

Challenge42
As part of their mission to promote the UK as a top destination, VisitBritain asked Brand42 to develop an interactive spy competition based loosely around Skyfall.
Our work set to increase social media followers and email sign-ups on VisitBritain.com, and naturally, we were instructed to burn the brief immediately after we'd read it.

The Big Idea
We decided to show off GB and our infamous 007 through a web app featuring a series of dangerously engrossing missions set in some of the most unique and bond-esque locations across the country.
We also wanted to make sure that our strategy was accessible to non-native English speakers so we created an innate Bond-ness in our design; the kind that instantly transcends language barriers, continents and cultures.
All in all, everything in the game play, narration and the visual identity was geared towards delivering the British sophistication embodied by the nation's greatest spy.

ROI
The proof is in the pudding. The game proved to be a highly successful marketing platform for VisitBritain with 800,000+ video views and players from 188 countries generating an estimated potential contribution of £12million in additional visitor expenditure, a return of 184:1 based on agency costs.

Let's get technical
Due to the requirement of creating versions that worked seamlessly across the different screen resolutions we decided to use HTML5 with a CSS3 responsive design.
We anticipated (and received) substantial user flows and high traffic so Amazon Web Services helped us to manage the spread of traffic. CloudFront was used as a Content Delivery Network to duplicate media in different regions . As language choice we used PHP to handle all server side scripts and MySQL as database storage. On front-end we used HTML with CSS3 and java-script with jQuery.
Awards Update
2012 - Appy's Award Winner